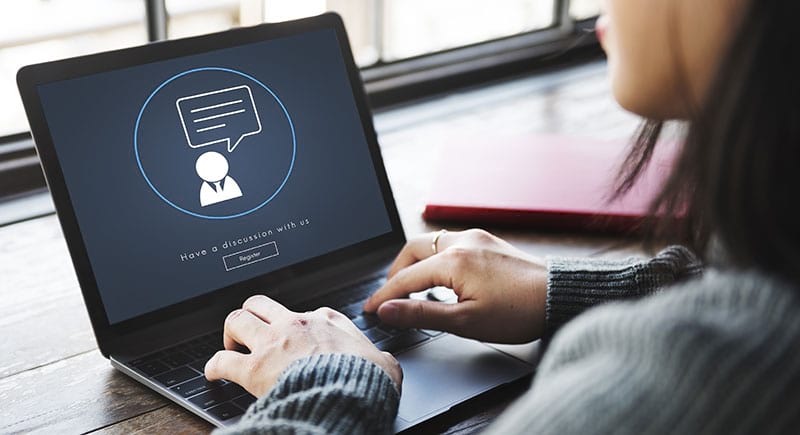 Chats for separates represent a really valuable opportunity, because they allow you to meet other divorcees, with the possibility of rebuilding a family.
Unfortunately, we all know how difficult it is to come to terms with a divorce, both for the complications related to children, both for the obvious difficulties in rebuilding a social and love life.
Divorcees, by definition, often come out of a one-way relationship: you arrive at the separation without a group of friends or acquaintances, because family life has come to absorb all the attention of the two partners.
When the time comes to say goodbye, these difficulties emerge in all their power. Thanks to the web, however, it is possible to give a kick to loneliness.
Why join a chat room for divorced people
Clearly, the main objective of the chat rooms for separates is to allow anyone to Finding love again after divorce.
As mentioned above, it is never an easy or obvious mission, for some reasons that are very simple to understand. First, because after so many years of marriage, you no longer have a group of friends with whom to share your evenings.
The group, then, is obviously essential to make new acquaintances, then to meet other men or women with whom to live their lives.
This does not mean that a divorced person is alone in the world, but one must also evaluate the "quality" of friendships. In fact, it is normal for a couple to go out with other couples, so when the relationship breaks up, automatically the divorced single person will no longer go out with the old group.
All because he/she would play the part of the uncomfortable one, and because he/she would find himself/herself uncomfortable surrounded by people who share a relationship. In short, he would end up being a so-called "lookout", which would certainly not improve the situation, neither the social or sentimental, nor the psychological one.
But…what are these portals?
These are particular dating sites (one that we can report as good quality is Parentresingle.net, that have a very specific goal: to allow divorced singles to get in touch, so they can get to know each other and - who knows - make a new love. These portals allow you, for example, to meet single moms in chat, but also men who are recently divorced or have been divorced for a long time.
In other words, any separate person can sign up on these platforms and start breathing new life into their love life. Secondly, the system works in a simple way: you just have to subscribe to the portal in question, start browsing through the various profiles of other members, find those who seem most suitable and start chatting with them.
After breaking the ice, you can get to know each other, chatting about the more and less, and also tell about their past experiences (sentimental or not). The textual knowledge in chat is necessary, so as to understand if it is possible to find the character factors or passions in common, essential to finally start a love relationship.
It is clear that the operation of these sites is much more complex, which gives us the opportunity to spend a few more words about these platforms. So we will allow you to better understand them, and facilitate your entry into the world of dating for divorced singles.
How dating sites for separates work
As mentioned, the first compulsory step is to sign up to the chosen site, which can be done by filling out a form, perhaps with a series of open-ended and even multiple choice questions.
The questionnaire is important, because it allows the site to delineate a partner who is right for you, and to exploit (if any) algorithms to propose you solutions in accordance with how you are made and your desires. In practice, just as any marriage agency would do.
In other cases you can sign up directly using your Facebook account, just to speed up the operations. Then, you will receive a confirmation email with a link, and by clicking on it you can complete the registration.
Let's get to a focal point of the discussion: are divorce websites free or do they cost money?? There are some free chats that allow you to enter public channels frequented by separate people.
From the public discussion you can then move to the private one, so you can get to know each other better. It is clear that, if in the first place we are talking about sites that attract because they are free, they are still not very controlled, so you never know who is on the other side of the screen.
On the other hand, they are very fast, because they often do not even require you to register, so you can even give it a try.
Paid sites are obviously a different matter, if we're talking about professionalism, and are similar to social networks like Facebook. This means that you sign up, create a profile with your details and information, and start a search for people who match your desires.
You can do this thanks to a search engine, with a series of options that can be customized: these work as a filter, so they pass only the profiles that correspond exactly to the information you have indicated.
For example, the age group, but also the geographical origin, the presence of children and much more. Then you can start a chat with that separated single, get to know him, and start discussing your first live meeting.
As far as payment is concerned, there are some other info you might want to know about. First of all, the subscription to these portals is always free, as well as some basic functions, such as receiving messages and reading them.
If you don't subscribe, however, you won't be able to answer messages and you won't be able to send new ones. You don't have to see this as a defect because, since this is a real service, you are paying a group of professionals who care about the needs of the users, and who have to cover their expenses.
Since your goal is to find love again after the separation, it is always better to prefer professional solutions, avoiding free sites.
How to choose the right website
The web offers many sites designed for divorce, but first you have to pay attention to the niche. What we want to tell you is that you might be attracted by a generalist site, and it would be a mistake.
Love for divorce online is always a matter of niche, so you'd better opt only for a site specifically aimed at your target audience.
By doing so, you will be absolutely sure to find only separate women and men, avoiding wasting time on other users, who are looking for something completely different.
Moreover, as we said, it is better to choose a paid site, for a matter of seriousness and because here you will find only real profiles, certified by the staff.
In conclusion, the suggestion is to try the way of the web and specifically of dating for separated people. So you can finally find another love.